Reading Time:
9
minutes
Introduction

to Romanticism of William Wordsworth
History has seldom witnessed that a person who instigated a genre of any art form, and the same person went on to become the epitome of it. Take movies, for example. The first-ever movie was directed by a Frenchman named Louis Le Prince. However, instead of Prince, it is the likes of Martin Scorsese, James Cameron, and Satyajit Ray, who are considered as the ultimate masters of filmmaking. William Wordsworth
This fact makes William Wordsworth a rare personality to step on this planet, who not only instigated a genre, Romanticism but is also considered, more or less, the greatest romantic poet. In this document, will study the contributions made by the great master to Romantic Poetry.
Before divulging in the main topic, I would like to discuss a few essential concepts. For instance, we must first establish the meaning and general perception of 'Romantic Poetry', and 'Romanticism'.
Rise of Romantic Poetry
So, what is Romanticism? It was basically a literary and artistic movement that originated during the late 18th Century in Europe. The movement saw artists from various walks of life, like painters, writers, poets, musicians, singers, etc. glorify the subtleties and beauty of nature, emotions, and past. Romanticism saw the birth of a new genre of poetry, which was later christened as the 'Romantic Poetry'. The period between the late 1780s & 1790s until the 1850s came to be known as the 'Romantic Age'. The famous poets, apart from William Wordsworth, of the Romantic Age include William Blake, Samuel Taylor Coleridge, John Keats, Percy Shelley, Walter Alva Scott, Robert Burns, and Lord Byron.
The age was inspired by a series of events which took place in Europe after the mid 18th Century, and the most prominent among those were the Industrial Revolution (1760-1820), and the French Revolution (1789-1799). Romanticism had a significant effect on the sociopolitical scenario of Europe, and then later, of South America, as the romantic thinkers had a great influence on strong social values like liberalism, radicalism, conservatism, and patriotism.
The history of 'Romantic Poetry' as a separate genre can be traced back to 1798 after William Wordsworth and Samuel Taylor Coleridge published the famous collection of poems titled 'Lyrical Ballads'. Since then till the 1850s, the genre saw a flamboyant reign, and a number of great poets emerged, the most prominent of whom still remains Wordsworth.
The most popular group emerging from the age of romantic poetry is the one called "Lake Poets". These include Wordsworth himself, ST Coleridge, and Robert Southey. The Lake Poets were those who settled by the lakes in northwestern England, a territory rightly known as the Lake District, which was by glorified the beauty of the countryside extensively in their respective works.
Contribution of William Wordsworth to Romantic Poetry
After all the poets of Romantic Age, Wordsworth is regarded as the greatest one. In fact, he is also considered as one of the greatest poets of all time, period. William Wordsworth was April 7, 1770, in Cockermouth, United Kingdom, to John Wordsworth and Ann Cookson. He is widely considered the founder and most central figure in English Romanticism.
As mentioned earlier, the genre 'Romantic Poetry' began with the publishing of Lyrical Ballads by Wordsworth and ST Coleridge. Through is poems, William Wordsworth demonstrated is immense love and reverence for nature, though his observations and perceptions about nature were in opposition to an earlier famous nature-influenced poet, Alexander Pope (1688-1744). Pope observed nature with objectivity and analyses, an approach which came to be known as 'Hyper-Individualism'. On the contrary, Wordsworth took a more comprehensive, yet affectionate approach to depict nature. He portrayed his love for nature in four stages, which I have discussed below:
1. Love for the Physical Appearance of Nature:
Wordsworth expressed his love for the outer-appearance of nature, like colours, beauty, form, etc. This can be seen in the concluding poem of the first edition of the Lyrical Ballads, Tintern Abbey, where the poet draws a sketch of how the physical natural beauty successfully mesmerizes him.
"The day is come when I again reposeHere, under this dark sycamore, and view These plots of cottage-ground, these orchard-tufts,Which at this season, with their unripe fruits, Are clad in one green hue, and lose themselves 'Mid groves and copses."
2. Admiration and Affection Towards the Peacefulness of Nature:
It can be rightly deduced from various works of William Wordsworth that he admired the peace and tranquillity he found in nature. Moreover, in some of his poems, Wordsworth indicated how dearly he yearned for the peace he found in observing nature. For instance, in his one of the most works, Daffodils, also known as I Wandered Lonely as a Cloud, peace has been warmly depicted
"The waves beside them danced, but they Out-did the sparkling waves in glee: A poet could not be but gay, In such a jocund company: I gazed' and gazed' but little thought What wealth the show to me had brought: For oft, when on my couch I lie In vacant or in pensive mood, They flash upon that inward eye Which is the bliss of solitude; And then my heart with pleasure fills, And dances with the daffodils."
3. Considered Nature as a Living Soul:
William Wordsworth is well-known to be a nature worshipper. Throughout his works, it is clearly evident that Wordsworth believed nature is a living soul, and is present in every atom of the tangible universe, like the mountains, forests, rivers, sky, human being, and animals. In Tintern Abbey, he expresses the power nature possesses to overcome the evil of a superficial "dreary intercourse of life", an expression attributed to the city life, and in this case, London. In his masterpiece, The Prelude, which also happens to be a biographical depiction of Wordsworth's own life, he expresses his faith in the soul of the universe, which is nothing but the soul of the earth.
"Our birth is but a sleep and a forgetting:The Soul that rises with us, our life's Star,Hath had elsewhere its setting,And cometh from afar:Not in entire forgetfulness,And not in utter nakedness,But trailing clouds of glory do we comeFrom God, who is our home:Heaven lies about us in our infancy!"(from "Ode of Intimations of Immortality" by William Wordsworth)
4. Considered Nature as a Great Teacher of Mankind
Reminiscent to the ancient Greek philosophers like Socrates and Aristotle, Wordsworth, too, believed that nature is the greatest teacher for mankind, and promoted this perspective thoroughly in his works. In one of his famous works, The Table Turned, Wordsworth says,
"And hark! how blithe the throstle sings!He, too, is no mean preacher:Come forth into the light of things,Let Nature be your teacher.One impulse from a vernal wood,May teach you more of man,Of moral evil and of good,Than all the sages can."
These verses clearly show how much emphasis Wordsworth puts on learning from nature. He even goes on to state that nature can teach us the difference between moralities of good and evil better than sages, a statement which was quite bold at the time it was made.
After studying all of these things, one gets a glimpse into the immense depth in Wordsworth's poetry, particularly for nature and the love for it, which forms the core basis of Romanticism. The biggest contribution William Wordsworth made to romantic poetry, is to give perceptions of seeing, observing, and understanding nature, and its innumerable secrets. Therefore, Wordsworth is rightly credited to be the Poet of Nature by his admirers and critics alike.
In fact, if closely observed, we may also find that Wordsworth propagated simple living, away from the hustle and bustle of cities. This way of thinking took a strong position in the works of the later generation romantic poets, not only in the United Kingdom, but also throughout Europe, and the Americas. In this way, it wouldn't be wrong if we say that William Wordsworth is the father of Romanticism.
William Wordsworth' Take on Human Life
After his death in 1850, Wordsworth's wife, Mary Hutchinson published his semi-autobiography, The Prelude, a poetic collection of 14 books, which discussed his life in detail. In The Prelude, considered to be a masterpiece in English literature, William Wordsworth draws his life experiences, right from his childhood in the Lake District, to his days studying at the University of Cambridge, and so on.
Through his poems, Wordsworth speaks about how being around nature and engaging in natural sports like fishing, boating, swimming, etc. influenced his personality. He, therefore, advocated people to return to a natural some of life, which has faded away in the big cities like London. Further, he discussed his life at the university, where he felt loneliness in the big city, and how boring life had become. He also mentions his experiences while travelling through Europe extensively, in countries like France, Switzerland, Germany, Italy, etc. Wordsworth explains how his travels had a great influence on him, and make for an integral part in his formative years. All of this shows how Wordsworth kept learning from his natural experiences, getting taught by the Soul of Nature.
Wordsworth also discussed human relationships in detail. He discusses his lifelong affiliation and compassion with his sister, Dorothy Wordsworth, who appears at several places in his works. Other important figures in his works are his childhood friend and wife, Mary Hutchinson, his estranged French girlfriend, Annette Vallon, from whom he had a daughter named Anne Caroline. Through these relationships, Wordsworth discusses the intimacies, happiness, and tragedies of life, which are universal, and hence, an integral part of nature.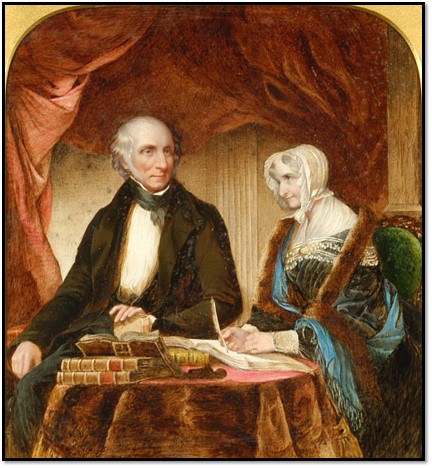 On his visit to France in 1791, Wordsworth met and fell in love with Annette Vallon, but had to return England due to financial and political tensions a year after Anne Caroline was born. This duration, until his marriage with Mary Hutchinson, was a tragic period for him. In 1802, just before his marriage, Wordsworth visited France along with his sister Dorothy, where they met Vallon, to inform her about the proposed marriage. On this visit, Wordsworth also met, for the first time in nine years, his daughter Anne, who was nine years old at the time. He beautifully captured the time spent with little Anne, in his sonnet, "It is a Beauteous Evening, Calm and Free".
While describing all of these moments of tragedies and joy, Wordsworth captured emotions distinctively, personifying them with various elements of nature, making each of them purely romantic. In fact, the artistry with which he encapsulated emotions left readers, and also his contemporaries, in awe. This way he contributed to the romantic age, the subtle art of capturing strong and intense emotions like remorse, regret, guilt, tragedy, separation, etc. with great beauty and flamboyance.
The Lyrical Ballads: Greatest Poems of the Romantic Age
"Lyrical Ballads" is undisputedly one of the greatest collections of poems, not only of the romantic age but of all time. The collection was anonymously published in the year 1798, and the second edition was published under Wordsworth's name in 1800, the third in 1802, and the fourth edition in 1805. The second edition came to be known as the "Preface to Lyrical Ballads", as he also wrote a preface for it.
Factually, Lyrical Ballads was a compilation of the works of William Wordsworth, and Samuel Taylor Coleridge. However, the fame which Wordsworth got after the launch was immense, and remains unmatched even today. The poems which were later discovered to be written by Wordsworth have went on to become the epitomes of romantic poetry, especially in terms of their expression, structure, style, conceptualization, and emotions.
Lyrical Ballads, in fact, inspired a generation of poets to write romantic poetry, and consequently, the glorification of nature, emotions, human relationships, and spirituality, which are found extensively in Wordsworth's works, is heavily found in the works of other poets of the romantic era. Though poets like PB Shelly and Lord Byron took a different approach to romanticism, they also seem to be inspired by Wordsworth, as their works, too, revolve around nature, albeit in distinctive styles.
The effect of "Lyrical Ballads" was such that it paved way for the rise of romantic poetry itself, which speaks volumes of the influence Wordsworth had, and contributions he made to this particular genre.
Conclusion
Contributions of William Wordsworth to Romantic Poetry can be broadly classified in two parts. First, the impact he had on the literary merits, and second, the influence he had on his contemporaries and future poets.
In the first part, William Wordsworth is known as the master of Romantic Poetry for his literary brilliance, depiction of emotions, personifying human life with nature, and propagation of a way of living that called everyone back to nature. It is this impact on Romanticism, which makes Wordsworth arguably the greatest poet of the Romantic Age.
Secondly, the influence he has had on his contemporaries and the future generation of romantic poets is immense. Almost all the great poets of the Romantic Age were either directly or indirectly influenced by Wordsworth's works, his way of thinking, and his level of artistry. This gave a rise to an oceanic flow of poetry, which identified itself with nature, beauty, earthen life, and natural living.
Note -If you like this post please check out my previous blog post on "Five Books to Read for Beginners"

Noman is a literature expert, news analyst, and content creator. When not writing news and other content for clients, he likes to read novels and talk about them. Born and raised in a ghetto of Mumbai, he is vocal about the social issues facing the slums and his community. Noman is the co-founder of Bombay Reads, a platform where he likes to write and discuss books.